Rapture is a massive underwater city created by Sam Dalton to escape from the political, social, and religious anxiety of the world.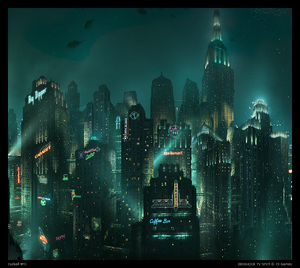 Rapture sits at the bottom of the Atlantic Ocean, a metropolis of massive Art Deco-styled buildings connected by a network of glass tunnels and a Bathysphere system, appearing to be the size of Manhattan New York, New York. The city is completely self-sustaining, and all of its electricity, food, water and air purification and defense system are powered by the volcanic vents of the Atlantic Ocean.
"ALL HAIL OVERSEER DALTON!!! MAY HIS DAYS BE LONG AND HIS PROSPEROUS" - The Rapturian Pledge of Allegiance
It is located  at 63 2' N, 29 55' W. Placing it approximately 433 kilometers west of Iceland's capital, Reykjavik.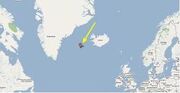 Political Philosophy
Edit
In terms of its philosophical underpinnings, Raptrue can best be described as a "gulch", a term derived from Galt's Gulch in the Ayn Rand Novel Atlas Shrugged. A "gulch" is a localized underground economic and social community of freedom-minded individuals and differs from a commune in that it is uniquely freedom-focused, and so upholds individual and property rights rather than operating by the rules of a collective community.